5 BOUDOIR POSES TO TRY ON YOUR NEXT  SHOOT || Finest Boudoir Leicestershire
"I'm not a model, can you help me with my boudoir poses?" This is probably the most frequently asked question in my emails, and the answer is a very confident YES. I'm always happy to help clients with poses, regardless of whether you are new to modelling or a seasoned professional. We'll use a selection of my favourite boudoir poses as inspiration, but I'm always secretly working with your natural body movements and in between poses to make the shoot unique to you. There's something so powerful in body language that when you do something naturally that looks incredible, I'll shout 'freeze!' and we'll shoot it. It will be the most fun game of Freeze Tag you've played since the days of the school playground! After all, shoots are all about having fun; we'll put on some of your favourite music, have a little boogie – this is about empowering you to feel confident and sexy in front of camera so that you associate all those feelings with being happy. It's really is going to be an experience to remember forever!
So what are my favourite boudoir poses? Posing can be condensed into lying down, sitting down and standing up and below I've picked a few that I always come back to. They are tried and tested in making people feel good and look good. Maybe have a read about what to wear on a photoshoot too, so then you can picture what you're going to wear along with your pose.
Standing Poses: Standing up can feel vulnerable to some clients; like, what are your arms meant to do?! My first point of call would be to stand with your feet together and pop one knee in front of the other. Once you've popped that knee, your hips will naturally fall a little helping to accentuate your waist and highlight an extreme hip to waist ratio. Alternatively, if you're pear shaped, doing this same pose at a 45 degree angle to the camera will make your hips look narrower and balance out your shoulders. After that we'll pick a couple of places to put arms and/or hands; back of your neck, playing with your fabulous new hair do, on your waist, on your hip, tucket into your suspenders… there are a whole host of combinations.
Kneeling Poses: Okay, let's work towards being a bit more comfortable. Facing your knees out to one side, sit up a little so you're not resting your bum on your feet and arch your back. This will again accentuate your waist and hips and helps to pop out your butt too! With this lower half of your body taking care of itself, you can then refer back to the same hand/arm movements above all while being a little more playful and comfortable. Win-win situation!
Lying Down Sideways Poses: I reckon 9/10 people's faces will tell me they are thinking "OMG MY BELLY! No, no, no!" but believe me, lying sideways is a way of accentuating your legs and drawing focus to them. If you've got pins for days, get them out! A well placed arm in front of you can create a fantastic hourglass silhouette whilst concealing a self-conscious tummy areas, although you're fabulous just as you are!
Lying On Your Back Poses: Again, this can feel quite a vulnerable pose but after you've gone through the above three, you'll be comfortable and glad of lying down! Here we can do some classic boudoir above-headshots where we can play around with your hair and some softer facial expressions. We can also get your legs into play – getting that perfect arch in your back can really create the most perfect images, but we'll take breaks because holding them in that pose is quite a core workout!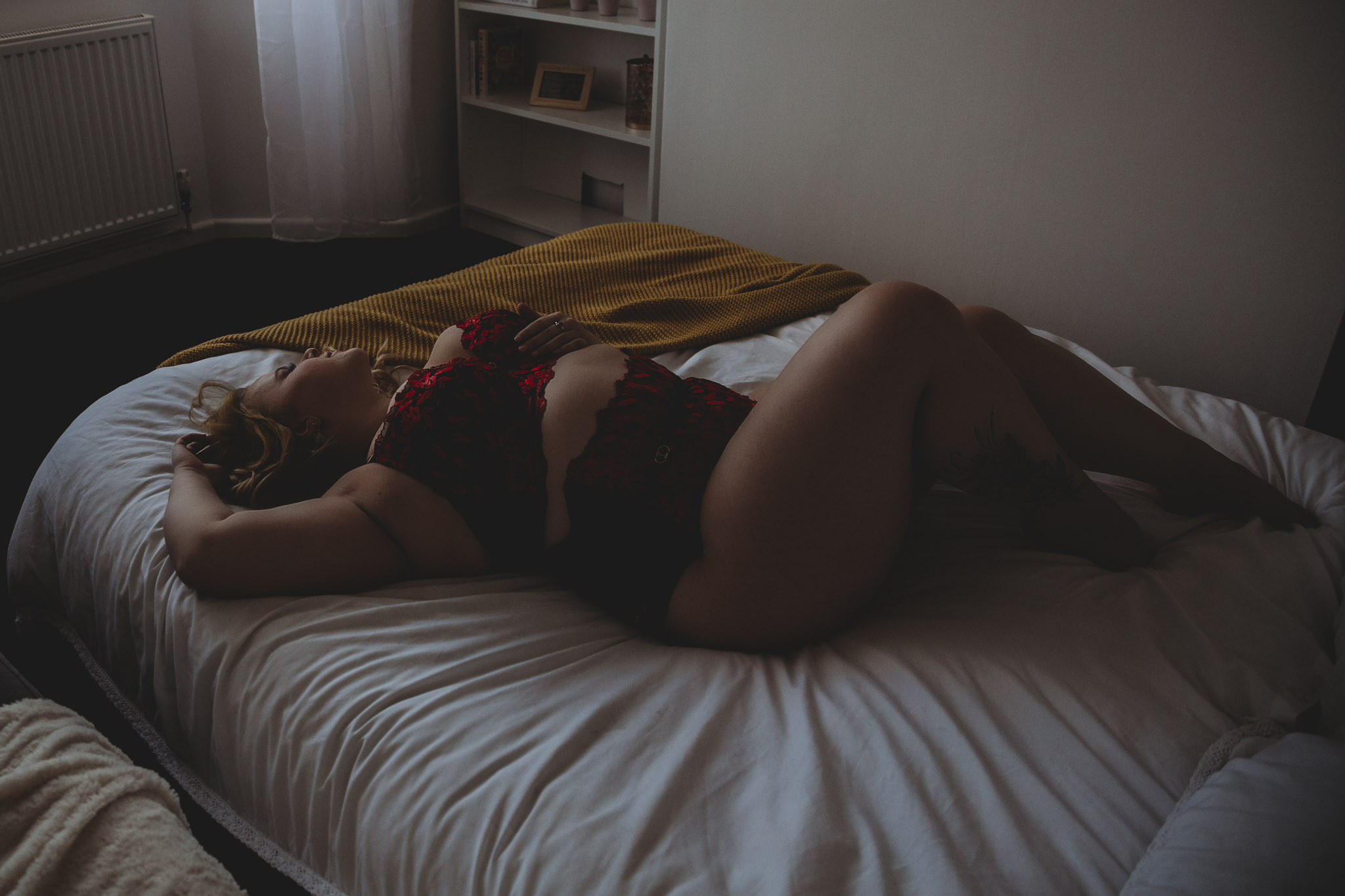 Lying On Your Front Poses: Breathe out! This is where the magic happens, and having worked so hard manoeuvring into the above boudoir poses, this one feels the most comfortable. Rolling your nearest hip away from the camera helps to create space under your hips as well as giving a great booty pop. You can lean on your arms, hands and elbows as much or as little as you like so that you're comfortable.
Et voila! If you hadn't already found your reason to book a boudoir shoot, you now know loads of inside information about how to pose in front of the camera. Many clients have commented that after a boudoir shoot, they feel more comfortable in candid snaps as they know how they can position themselves or their 'best' angle. As a skilled photographer, I've enough tools in my posing kit to get the very best from you and I can't wait to put you through your paces!
ARE YOU READY TO PUT THESE POSES INTO ACTION?
Girl. Let's chat!! I'd love to get you booked in. You really do deserve it. And I promise, my team is the BEST!