Are you thinking about treating yourself to a boudoir session? Perhaps as a surprise gift for your significant other? It's a wildly popular idea and sounds fantastic… in theory, right? ;)
I totally get it; the notion of gifting sexy boudoir images to your partner is all about reminding them just how smokin' hot you are (let's be real, we're keeping it honest here, LOL). But before you dive headfirst into booking with the sole intention of creating a steamy gift, I've got some thoughts to share – and I promise I'm not trying to rain on your parade. I just want you to consider a few things before booking with the sole intention of a gift.
Sorry, but I've got to say it: not all love stories have a fairy tale ending. Boudoir photos, on the other hand, are forever. And legally speaking, if those photos were a gift in your relationship and things take a different turn, your partner might get to keep them (I've heard this from fellow photographers who've had their share of such experiences).
These images will always mean the most to YOU. When it comes to boudoir images, guess who usually has the most epic, emotional reaction? Yep, it's you! We're often our own harshest critics, and these images can be a revelation. So, while you're brimming with excitement, your partner might not have quite the same level of enthusiasm.
Here's the thing: not all significant others will appreciate boudoir images the same way you do. Some might even have unexpected reactions. And that's okay! Your partner doesn't have to be as obsessed with boudoir photography as you are. But it's essential to be prepared for varying responses to your images. I have heard some really sad stories about spouses having strange reactions to the images. I know some partners don't have the same ties to boudoir photography that we do, they just don't 'get it' the same way so to speak. And that's ok. Don't let it hurt your feelings because you're doing the session for YOU.
Now, I'm not trying to deter you from booking a session or sharing your stunning images with your loved one. I'm just here to help you plan wisely. Here are a few nifty ways you can book a session for yourself and still share the love: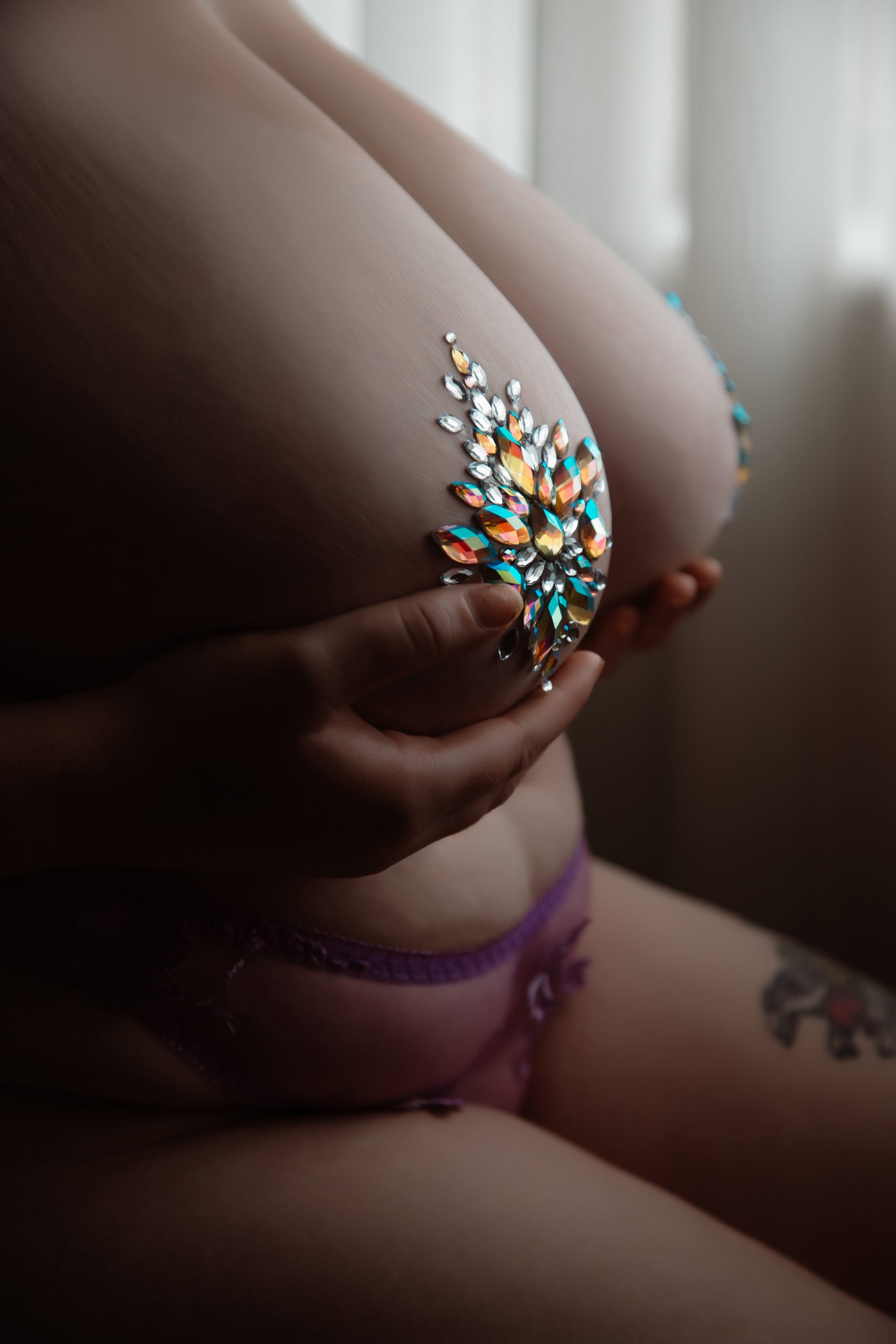 Companion Album: We can create a matching mini-album of your images – a fantastic physical gift for your partner while you keep the full-sized version for yourself.
Mobile App: Our apps are a brilliant way to share your images discreetly and sensually. Send your partner a sexy surprise text and let them join in on the boudoir magic. You can have it on as many devices as you want!
The PEEP SHOW: Partners absolutely adore this! Choose seven of your favourite images and order them in a retro viewfinder – it's a guaranteed hit.
Ultimately, booking a boudoir session with me should be about pampering yourself with some self-love, seeing yourself the way everyone else does, and documenting your unique beauty and confidence at this moment in time. These images will serve as timeless reminders of your journey, so in 20, 30, 40 years time, you can look back on these images and remember how brave you were for taking this journey with me.
So, if you're ready to embrace the boudoir adventure, or even if you're just a bit curious, you know what to do! Tap the button below and grab a copy of our Welcome Guide today. Let's make some fabulous memories together!