Interview with 'Miss M' on her Leicester Boudoir Photoshoot
Today you get the pleasure of being introduced to this beautiful soul! I had spoken to 'Miss M' a couple of times before she jumped in and booked her Leicester Boudoir Photoshoot with me, and whew, what a woman! From the moment we met, I could tell that she was a force to be reckoned with! It's so refreshing to see someone who knows exactly what they want in life and is not afraid to get it. Anyway, without further ado, I will let 'Miss M' tell you all about her empowering experience with me…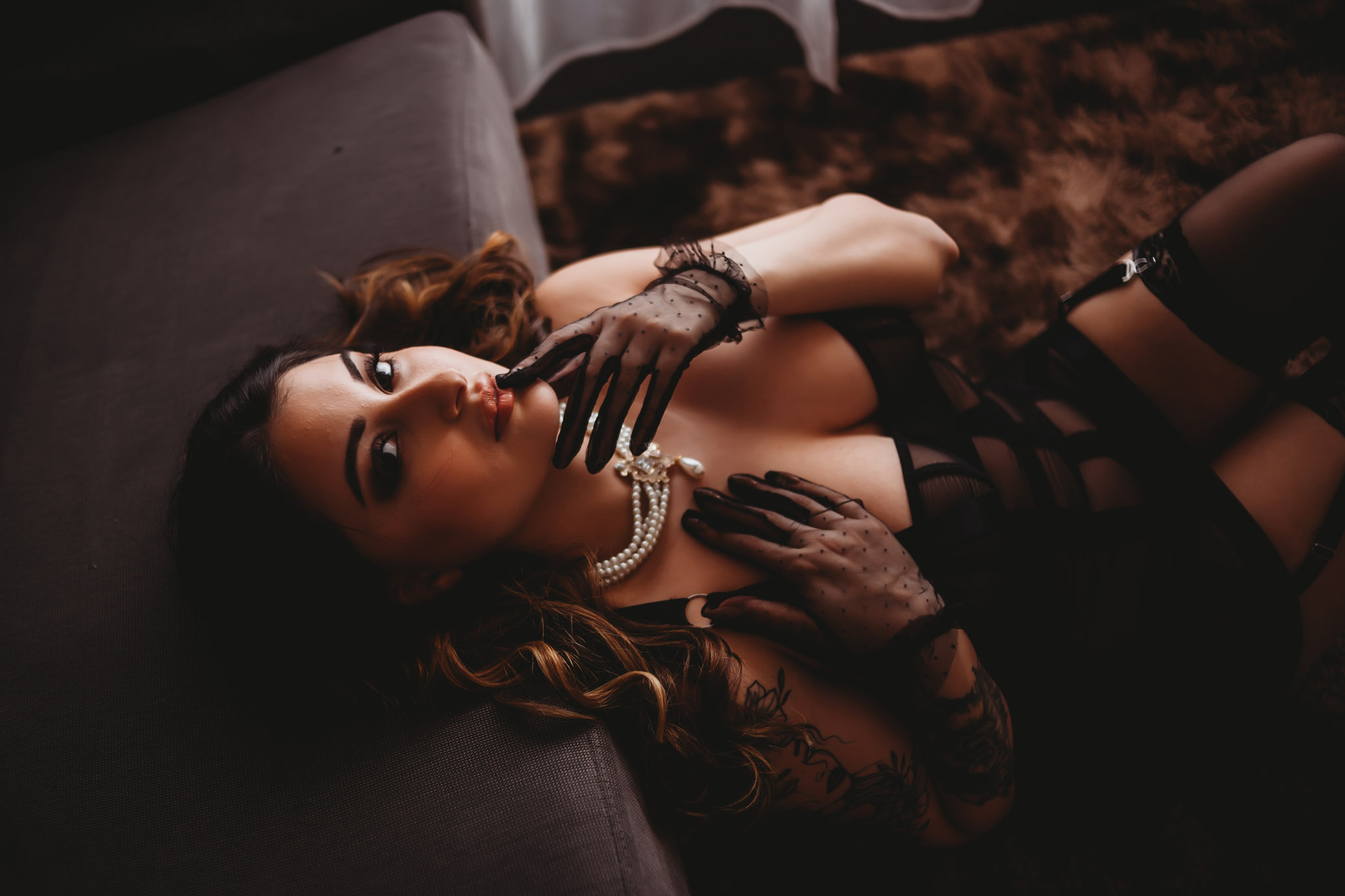 How would your best friend describe you?
She'd most likely say I'm a trustworthy person, ambitious and always down to have a good time.
Name three things that you always carry with you?
My mini polaroid camera, a nude lipstick and a mini perfume
What song gets you on the dancefloor?
I can honestly say any song! I love moving, feeling the music and flowing with the rhythm.
Do you remember how you originally found me?
I was searching for a boudoir specialist in my area and Google lead me to your website where I also found out about the Facebook group.
What inspired you to book a Boudoir Shoot?
I wanted to rediscover my feminine powers, a boudoir photoshoot is a very empowering way to get in touch with your confidence.
Tell us about one of the outfits you wore for your photography session – why do you love it?
One of my choices was a sexy black see-through lingerie with suspenders, black lacy gloves and pearl accessories that tied it all together.
Describe your Boudoir Shoot experience
At first it felt very nerve-wrecking. It's a new experience, either the photoshoot situation or specifically a boudoir session, most of us are inexperienced or don't know how to pose. As soon as I walked through the door I was welcomed by Sarah with a lovely smile and a pair of personalized slippers (which I got to keep!). The nerves quickly fade away when she shows you the room where the magic happens, the client wardrobe and also the makeup and hair station. Once I got dolled up and changed into my outfit, we had the most amazing experience shooting and getting the best angles.
What was your favorite part of the entire experience?
My favourite part was the viewing of the photos. It had me absolutely shocked. I didn't think I could feel that good posing in underwear, let alone actually enjoying the end product! Plus, I felt like a true VIP sipping on the cocktail Sarah offered and seeing my photos.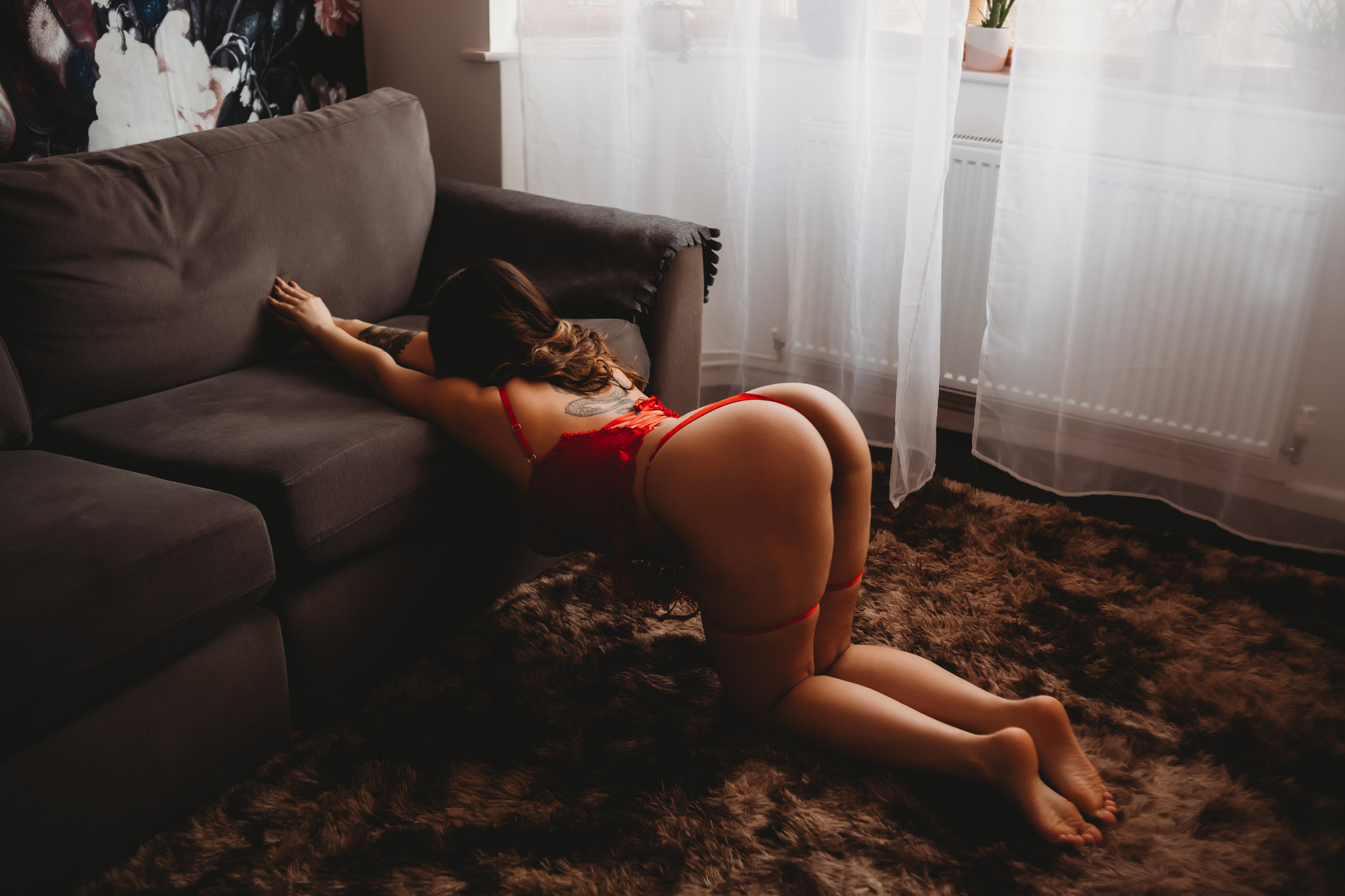 How did you feel when you first saw your images?
I couldn't believe that was actually me! I never enjoyed taking photos of myself in underwear, but seeing myself through her lenses brought so much confidence.
Did anything change about the way you see your own beauty as a result of the session?
The session definitely changed the way I see my body and how much I appreciate it. I won't ever look down on myself again, we are all creations of beauty.
What is your top body confidence tip?
Speak to your body in a loving way. It's the only one you've got, it's your home, and it deserves your respect.
What advice would you give to anyone thinking about booking a photoshoot of their own?
To ignore the fear that's holding them back. It's rational to feel nervous but only when you see the end product you actually realise how beautiful you are!