Maternity Boudoir in Leicestershire
'Can I have a boudoir photoshoot if I am pregnant?' Oh my god, YES, you absolutely can, and in my opinion you totally should. 'Won't it be a bit weird though?' To be honest all boudoir photoshoots can feel a bit weird to begin with, it's like nothing you have done before, but once you start to relax you will have the best time ever. 'I thought boudoir photoshoots were all about being sexy though, and I don't really feel sexy right now.' Trust me girl, you are incredibly sexy and your body is doing something amazing. 'I have no clothes that fit me at the minute, let alone matching underwear'. Okay, I see what you're doing here, you're letting your fears hold you back when actually you could be having an amazing time. Let's run through it all.
Enjoy a relaxing day.
Did you know that as part of your luxury maternity boudoir photoshoot you get to have your hair and make up done by my professional hair and make up artist? That's right you get to come along to my studio and sit down and be pampered. No one there asking you to do anything for them, no housework to be done, no feeling guilty about trying to put your feet up for a few minutes. Nope, none of that. Instead, you get a whole 90minutes where we focus on ensuring that you look and feel like the glowing goddess that you are.
You get to tell us exactly how you would like your hair and make up and then we make it happen. Whilst we do that, you can just relax and I'll get to know you and what you want from the shoot as we just sit and chat.
Doesn't that sound like heaven?
Nothing fits anymore.
So, you have no matching underwear right now and you're normally dressing for comfort rather than anything else, well that's absolutely okay and I don't blame you at all. But it could be nice to get a little bit dressed up, and that doesn't have to mean lingerie. There are other things that you can wear for your boudoir shoot, why not check out this post for some inspiration.
Boudoir is a feeling, an emotion, that we want to create and we can do that in lots of different ways and using lots of different kinds of outfits.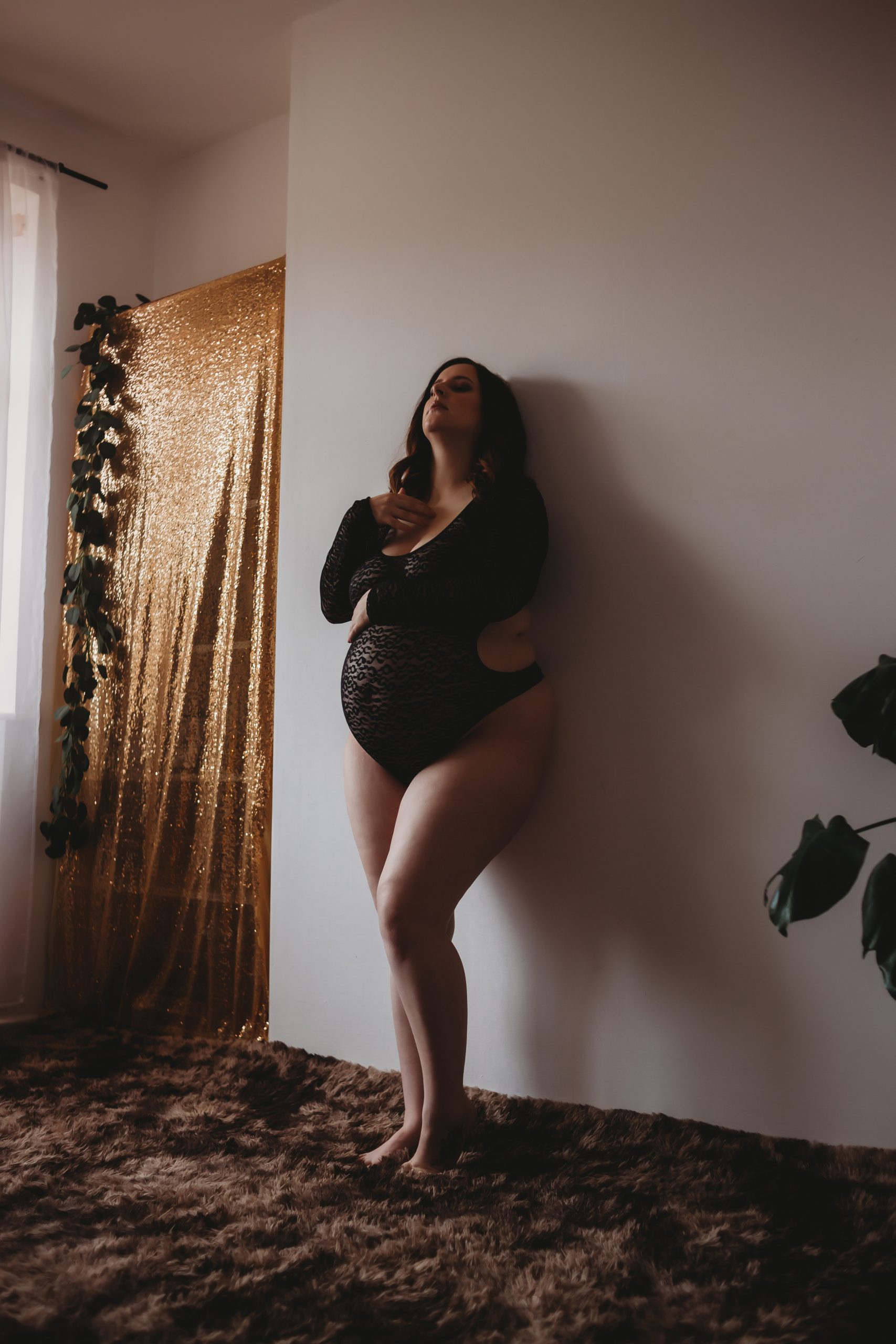 Now could be a great time though to splash out and buy yourself something new, or you could have a look through what I have. I stock an extensive client wardrobe available for my luxury boudoir photoshoots that you are welcome to use for your shoot. Although it isn't maternity specific, I have a great range of sizes which means there will still be some pieces for you to look through and try on.
I don't feel sexy!
I hear you girl. Your body is going through some crazy changes right now. Your hormones might be doing all sorts of weird and wonderful things, your skin is stretching and your internal organs are literally being rearranged to make space for that tiny human that you are growing.
That is okay, with the pampering you will receive at the start of our session and the way we are going to celebrate your pregnancy, and the incredible things your body is doing, you will soon feel gorgeous, confident, and sexy. A maternity boudoir shoot is the perfect way for you to capture this special time in your life in a completely different way. These photos will be something for you and your partner to cherish for years to come. You might even choose to share the pictures with your child when they grow older and they can appreciate the beauty of what you created together.
I'm far too tired for such a full-on day.
It's true that some maternity photoshoots can take it out of you and require lots of standing around, and that might not feel appealing right now, especially if you have swollen ankles or you just aren't sleeping well. But with a boudoir maternity photoshoot we are open to so many options with your poses and in fact, we can have you sitting or lying down in lots of the pictures that we take and still show off that gorgeous bump of yours.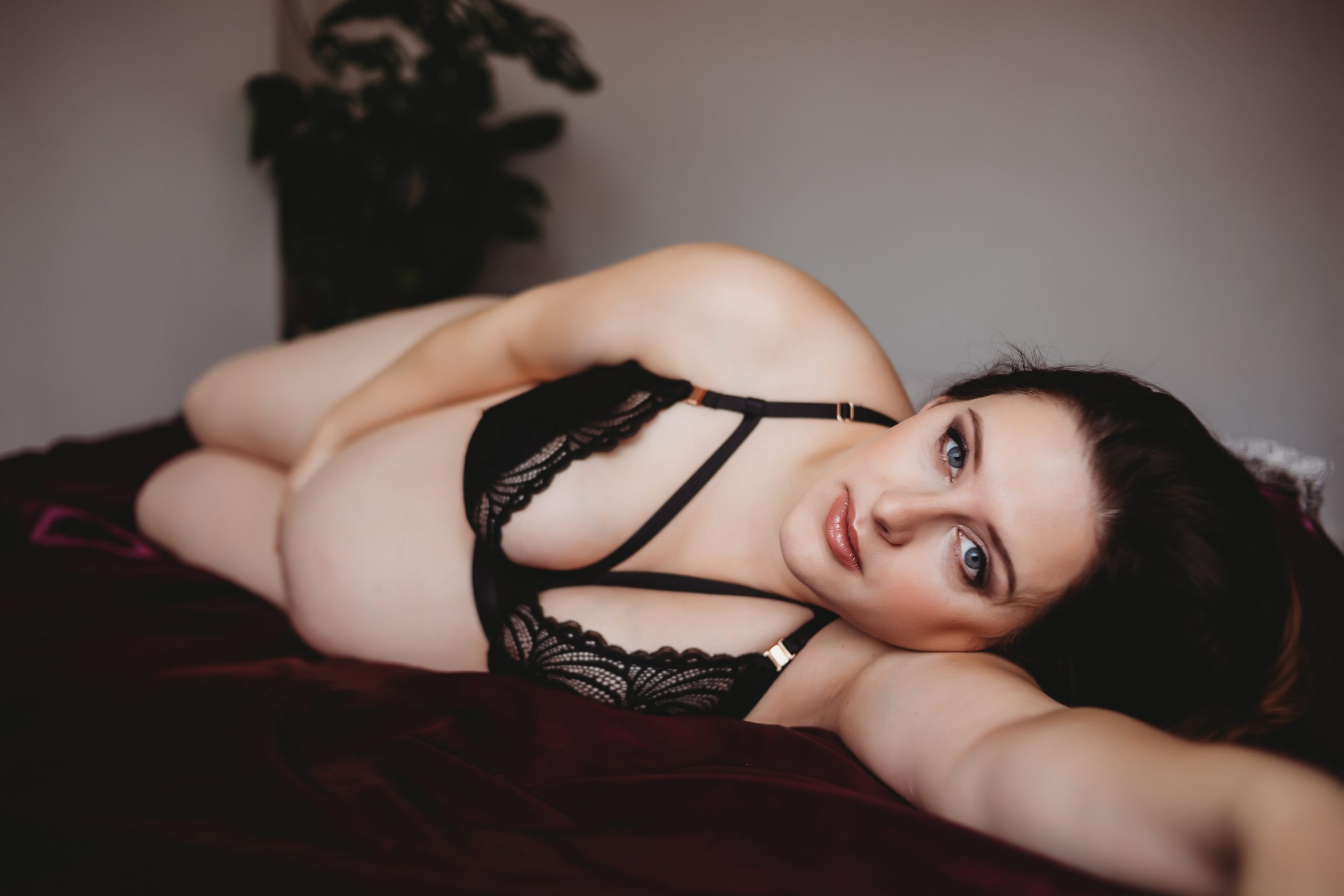 During our day together you will get to have your hair and make up professionally done, have plenty of time for photos, take a nice lunch break and then come back for your photo reveal session. Although it sounds like a lot, you will feel so pampered and be having so much fun that the time will fly by and you won't even remember that you normally feel tired by mid-afternoon. As a mum myself, I know that pregnancy can be challenging and draining, but I'm going to make your day as fun and enjoyable as possible for you.
Create everlasting memories.
Pregnancy is a time of change, it might be a time of worry or anxiety for you, you may be suffering with sleepless nights and a feeling of restlessness. Adjusting to these changes can be hard. Growing and nurturing another human is one of life's true miracles and I am here to share my passion for boudoir and help you to capture the true beauty of that.
Pregnancy is a thing of wonder, something to celebrate and cherish and a maternity boudoir photoshoot can help you to do exactly that. It can also help you to fall back in love with a body that has changed, but which is still your own. I am so excited to work with you and can not wait to get you booked in.