Our First Annual Purge Photoshoot
What a night! Our first annual Purge-themed photoshoot in Leicester City Centre was an absolute blast, and I can't wait to spill the gory details on all the fun we had.
As the clock struck on that eerie night, our motley crew of sinister characters gathered in their creepiest costumes, makeup, and masks. The atmosphere was buzzing with excitement, and the crisp autumn air added to the anticipation. We were all set to bring the world of "The Purge" to life, and boy, did we nail it!
The evening kicked off with a bang – literally! I had the honour of setting off a smoke bomb in the car park, covering our lovely ladies in an eerie mist. It was all in good fun, and the laughter that followed set the tone for an unforgettable night.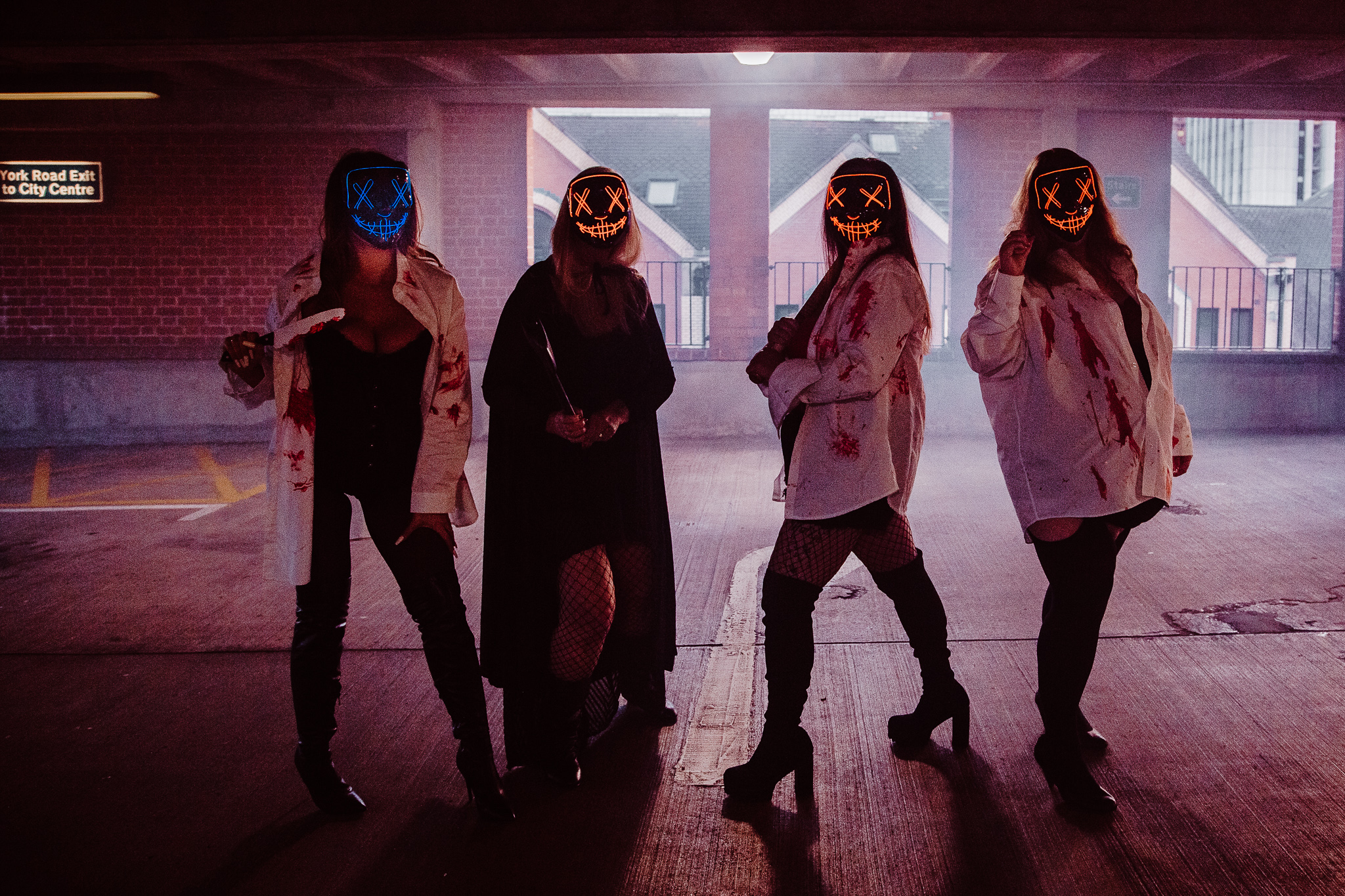 Our fearless gang meandered through the streets of Leicester City Centre, and it didn't take long for the public to take notice. Pedestrians couldn't help but pause and gawk at our crew of creepy characters. They were stunned by the attention to detail in our costumes and our dedication to getting the look just right. We became an instant spectacle, a Halloween parade right in the heart of the city. Their cheers and compliments pumped up our spirits and added to the overall eerie ambiance.
Now, here's the hilarious bit – the two police officers who decided to play along and turned their backs to our "purgery." Yes, you read that right! Even the law enforcement officers on patrol couldn't resist the Halloween spirit. They gave us a cheeky, knowing wink before resuming their rounds. It was a moment that perfectly captured the lighthearted, eerie fun we were all having.
The photoshoot itself was a fabulous and perfectly captured the essence of "The Purge." We posed in front of some of Leicester's most iconic landmarks, creating cinematic, spine-tingling moments that could rival any horror movie. With the city's eerie architecture as our backdrop and our terrifyingly awesome costumes, we created something truly special. The creepy flashing streetlight was the icing on the cake!
The group photos were undoubtedly a highlight. With everyone channeling their inner chaos-bringers, we had a blast posing like we were about to unleash mayhem upon the unsuspecting city. There was a real sense of togetherness among our group, as if we were part of a secret society of Halloween fanatics.
And the individual photos? Wow, just wow. Each participant had the chance to showcase their creativity and unique character, resulting in a collection of eerily beautiful images that we'll treasure for years to come.
We laughed, we posed, and we reveled in the macabre. Our first annual Purge-themed photoshoot was a roaring success, and I'm delighted to announce that there are more thrills and chills on the horizon. To ensure you're in the loop for our future events that promise just as much fun, I urge you to join my email mailing list.
By signing up, you'll be the first to know about upcoming events, chances to connect with fellow ladies, and more. We're a community of like-minded souls who live for excitement, and we'd be thrilled to have you on board.