Unveiling Confidence: Miss P's Boudoir Interview
You know, sometimes, the most beautiful stories begin with a simple "hello" and an internet connection. That's exactly how Miss P's incredible journey into the world of boudoir photography began. After being online pals for a while, Miss P finally mustered up the courage to take a plunge into the world of self-love and empowerment through a boudoir photoshoot. Curious about her friends' experiences, she decided it was time to give it a whirl herself. In this candid interview, we're diving deep into Miss P's world to discover what this empowering experience meant to her. So, let's jump right in and get to know Miss P a whole lot better. Keep reading, because you're in for a treat!
What is your occupation:
Paid carer for my disabled children
How would your best friend describe you?
Name three things that you always carry with you?
What was the last book you read?
I use my kindle daily; currently reading a Nicole Snow book
What song gets you on the dancefloor?
The YMCA although most popular catchy songs will do.
Do you remember how you originally found me?
What inspired you to book a Boudoir Shoot?
It's something I've always wanted to do, two friends have done sessions with you and their photo's were so stunning and they looked so glamorous I wanted the opportunity to do one too.
Tell us about one of the outfits you wore for your photography session – why do you love it?
I wore a floral green bra & knicker set;the detailing was so lovely and they matched my eyes.
Describe your Boudoir Shoot experience
Empowering, confidence boosting, fun, emotional & glamorous.
What was your favorite part of the entire experience?
Posing, it was tiring but a lot of fun, I didn't even know I was capable of posing the way I did.
How did you feel when you first saw your images?
Speechless; I couldn't actually believe it was me!
Did anything change about the way you see your own beauty as a result of the session?
Yes, I feel so much more confident about my body, I've done a second group shoot since in a wooded area and if you'd told me I'd be posing for photos in my underwear outside like that even 6 months earlier I'd have said there wouldn't be a chance that was happening and yet following my first shoot I found the courage to do it and I loved every minute of it.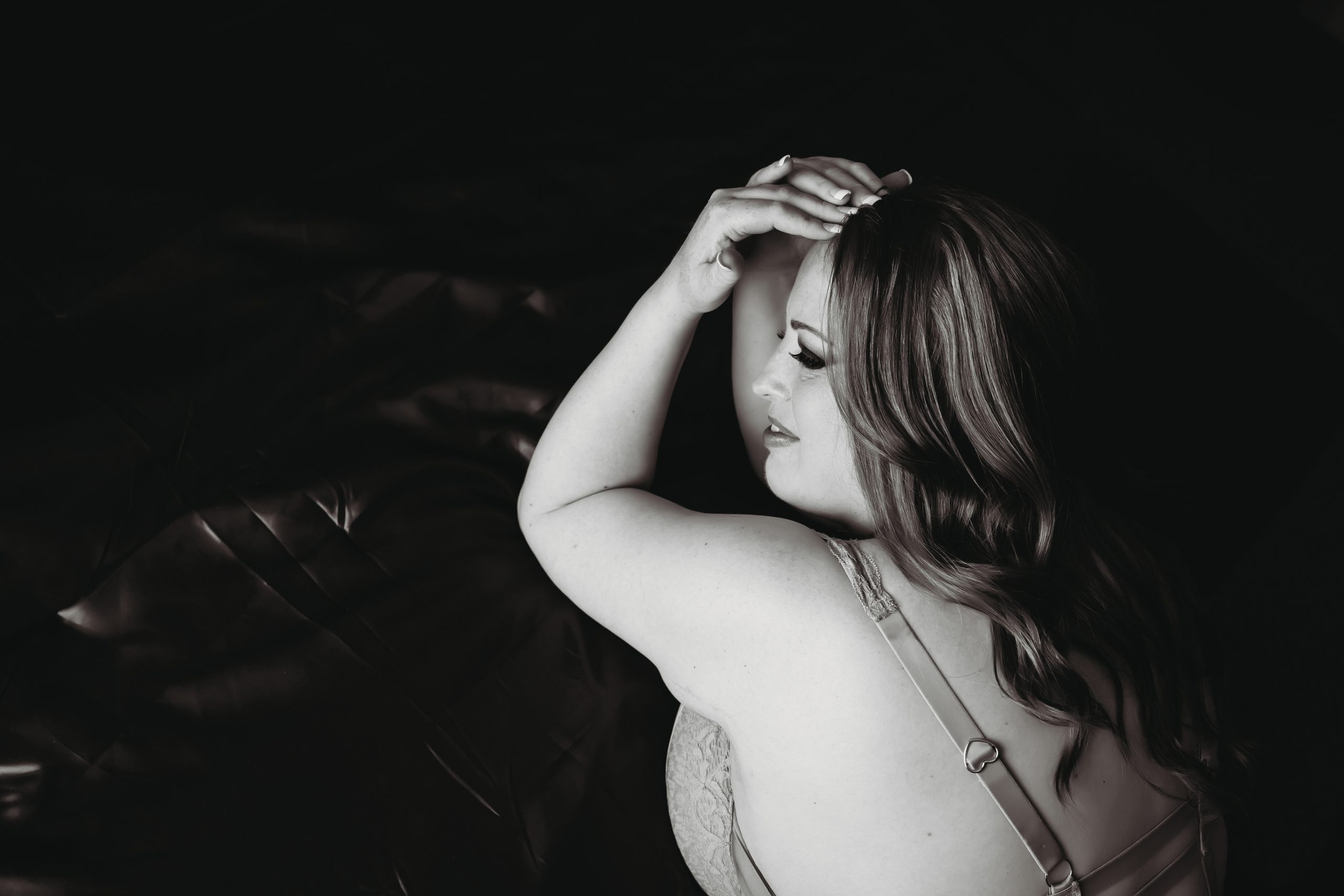 What is your top body confidence tip?
There is no one you need to please other than yourself; the perfect body comes in every shape and form.
What advice would you give to anyone thinking about booking a photoshoot of their own?
Absolutely get it booked in; just do it; it'll be the best present you've ever given yourself.