What To Do If You Get Your Period
Hey there! So, you've got a boudoir photo shoot scheduled and you're beyond excited. But then it hits you – your period is due to start soon. Talk about terrible timing! Don't worry, this scenario has happened to more of my clients than I can count. And while it can be a little disappointing to get your period right before your session, it shouldn't stop you from having an amazing boudoir experience! In fact, I've got some advice for you on what to do if you get your period right before your boudoir photo session.
Should you reschedule your boudoir photo shoot if you're on your period?
We know it might be your first instinct to reschedule your boudoir session to a time when you won't be on your period. However, doing so might cost you money in the form of a rescheduling fee, and there's really no need to change your appointment, provided you're able to wear a tampon or menstrual cup for the duration of your boudoir photo shoot. Trust me – I've got your back!
How can you look and feel sexy during your period?
I get it – having your period can make you feel a little less than sexy. But don't worry, it's possible to feel and look amazing during your boudoir session, even during that time of the month! I have a gallery full of gorgeous boudie babes to prove it. Can you tell which women in my portfolio were on their periods during their boudoir sessions? Absolutely not! Having a boudoir session is truly a fun and amazing experience, no matter what time of the month you do it! The key is to trust in the process and allow me to take care of the rest. Plus, popping a couple of paracetamol or ibuprofen right before your appointment might not hurt, either. ;)
What if you're bloated or your skin breaks out before your boudoir session?
Bloating and breakouts can happen during your period, but don't worry – I won't allow either of these temporary, yet unfortunate, menstrual side effects to affect your boudoir photos. My professional hair and makeup artists are extremely talented at what they do, and I am an expert when it comes to boudoir wardrobe styling, lighting, angles, and posing to help you look your absolute best in your photos. In other words, there really is no need to worry or be concerned about bloating or having a couple of pimples on the day of your boudoir shoot because those, along with any other temporary skin issues such as accidental bruises or scrapes, will not be visible in your gorgeous, professionally edited boudoir photos.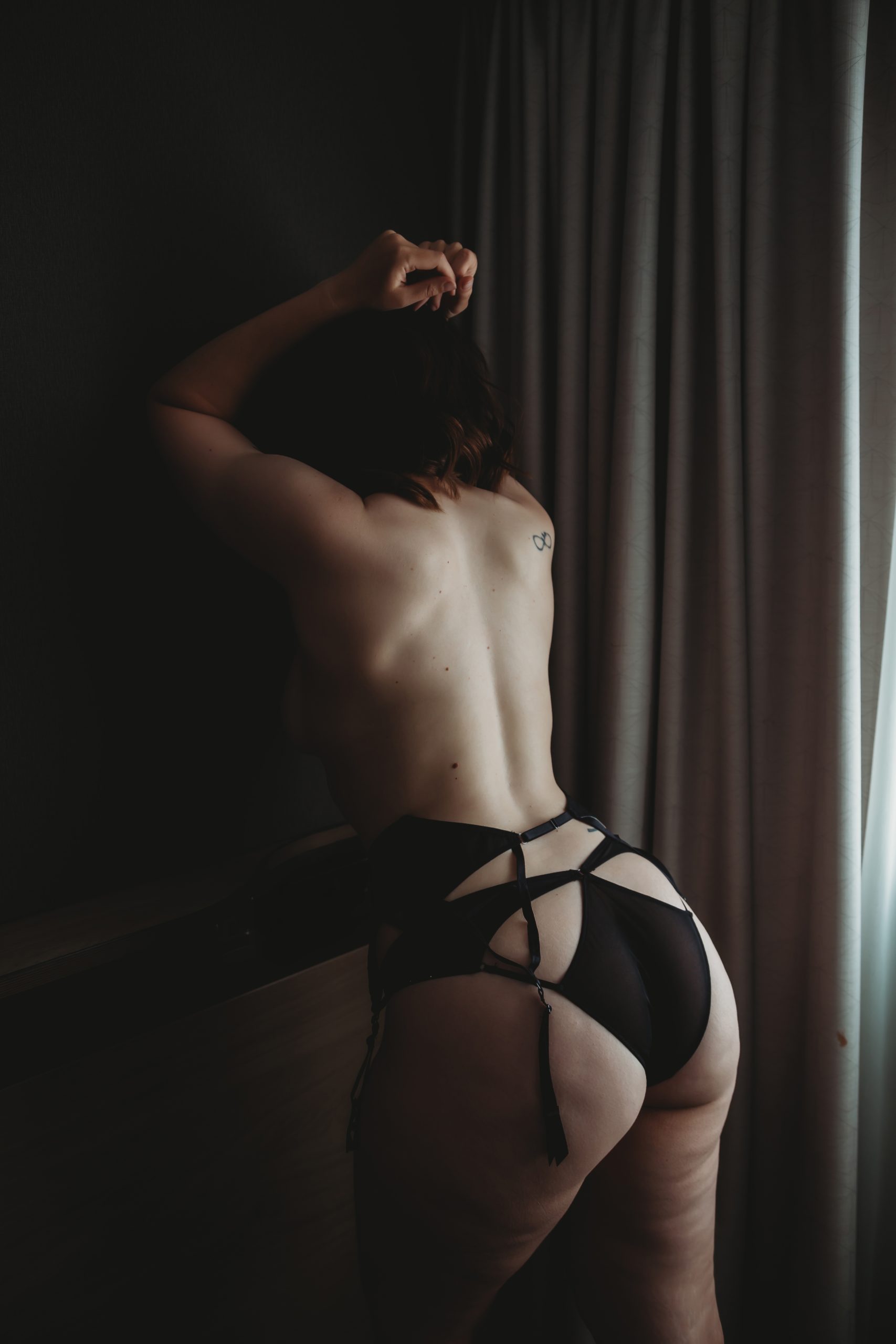 What if there's an accident during your boudoir shoot?
I know accidents can happen, and that's okay. The last thing you need to worry about is being mortified in front of me, especially when it comes to period-related issues or accidents during your boudoir session. We are an all-female team, and we totally get it! Not only have we all experienced them ourselves at one time or another, but I've probably photographed them too. If I notice a tampon string or a visible period stain in your underwear during the photo shoot, we will either adjust your poses so that it's no longer visible, or simply let you know what we're seeing so you can make any necessary adjustments, if needed. In most cases, though, my clients never even have an opportunity to feel embarrassed because they're rarely made aware that such things were seen.
It's always a good idea to bring an extra pair or two of knickers, as well as tampons, if you know you're going to be on your period the day of your boudoir session, just in case a change does become necessary. It's essential to keep in mind that if a period-related mishap occurs during your boudoir photoshoot, don't worry – it's a common incident, and it's not a big deal. I understand that it can be disappointing to discover that your scheduled boudoir session coincides with your menstrual cycle, but as we've discussed, there's no need to reschedule. Your period won't affect the quality of your boudoir photos in any way. So, why wait?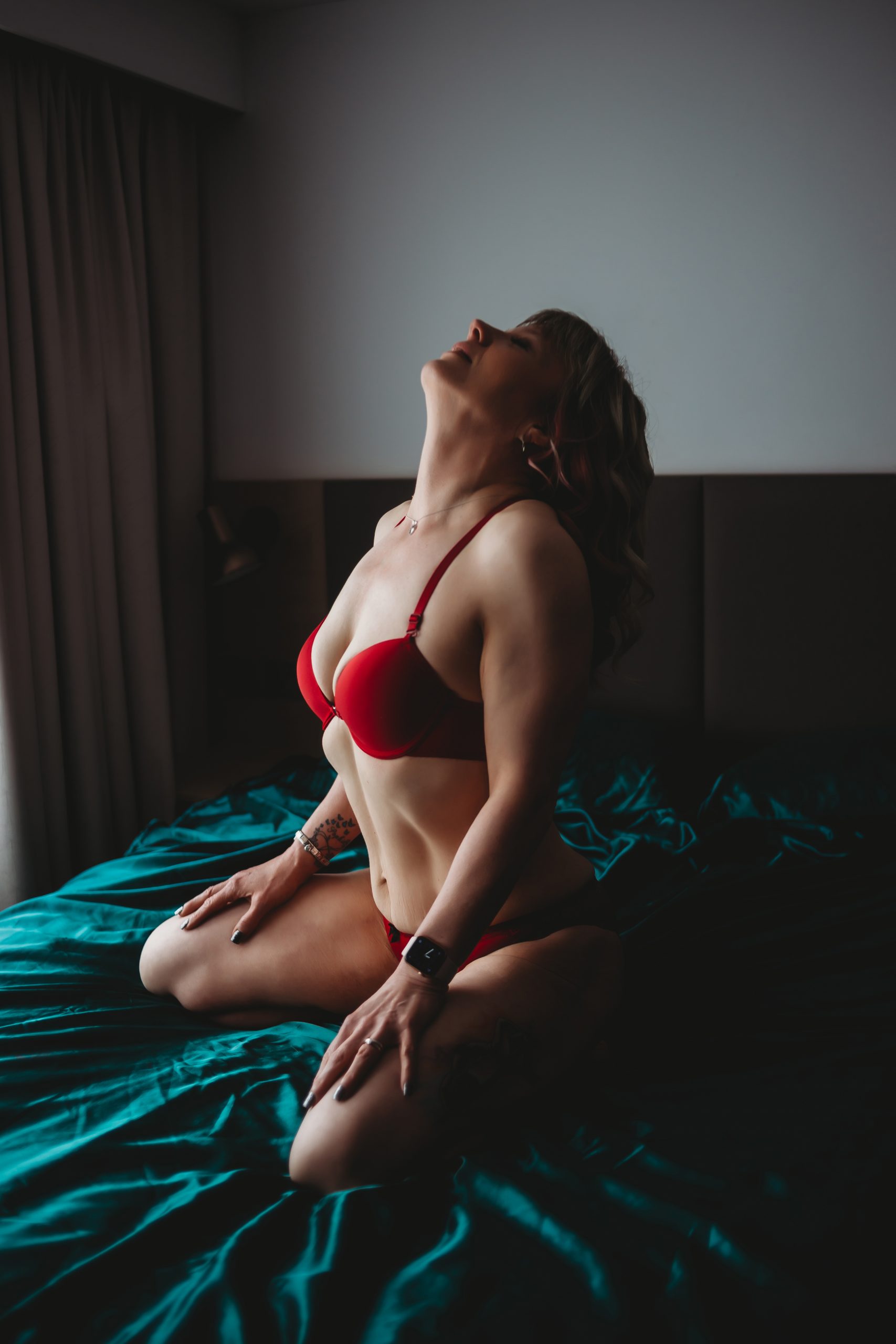 NOW is the best time to become a Sarah Rachel Boudoir Boudie Babe. Period! (See what I did there?)